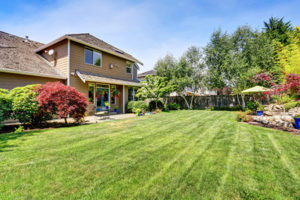 New Kitchen
A recently updated kitchen can add a lot of value to your home. The kitchen really is the heart of a home. And when it's new, highlighting it comes down to cleaning it well and clearing countertops. Old kitchens can be a turn-off to buyers. They're looking for updated, fresh and contemporary kitchens. If yours needs work, we can help you figure out what to do, if anything. Sometimes an old kitchen isn't worth renovating.
Big Garage
Deep garages, especially 2- and 3-car garages, appeal to many buyers. An outdoor covered slab to park an RV could also be a real bonus to the right buyer. Show off your garage by cleaning it up. Most people keep boxes of stuff like Christmas decorations and tools and who knows what else in their garage. If that's you, clear it out as much as possible. Buyers want to see how spacious and practical your garage is, not what you keep in it. 
Large Yard
Here in Florida, the weather permits us to frolic outdoors all year round. So big yards appeals to many buyers, like families with children, boat owners and people who like to entertain outdoors.  In master-planned communities, a big yard is gold and sets the home apart from the rest in the neighborhood. You want buyers to see the opportunity for growth, like adding a deck, an addition to the house, a shed or a pool. Maybe all three depending on the size of the yard! Spruce it up by getting rid of junk and clearing overgrown areas.  
Deep tubs
Experts say having at least one tub or tub/shower appeals to buyers. Fancy claw-foot and jacuzzi tubs are the extreme. But if your tubs are deeper than common tubs, buyers could appreciate it and see themselves soaking in a bubble bath while touring the home. Calgon, take me away!