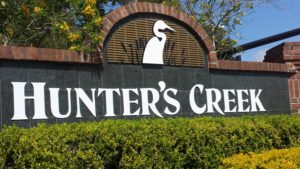 The gem of south Orange County, Hunter's Creek is defined by its scenic neighborhoods, convenient location, and a small-town feel that's hard to find in sprawling Central Florida.
One of the state's first eco-friendly planned communities, Hunter's Creek ecompasses 44 neighborhoods and hundreds of acres of conservation land around Shingle Creek, the headwaters of the Florida Everglades. 
There's plenty of stores and commercial businesses, and it's only 20 minutes away from Disney World/Universal/Sea World, Orlando International Airport, and downtown Orlando.
Its parks, ponds, and pristine natural habitats deliver on the green space, as do the 7,000-acre golf course and 7 parks — including nature trails, playgrounds, soccer fields, a community house, and basketball and tennis courts. 
There's something for everyone in Hunter's Creek, making it an ideal community for families, singles, and retirees. We've been assisting sellers and buyers in this community for more than 20 years. It's also home to some of the 3% Real E$tate team!
Give us a call and we can tell you more.